Our Vicars are assigned by the Diocesan Bishop for a period of 3 years. Rev. Stalin Thomas currently serves as our Vicar from May 2016. He resides in Phoenix and also serves the Phoenix Mar Thoma Church for two Sundays a month.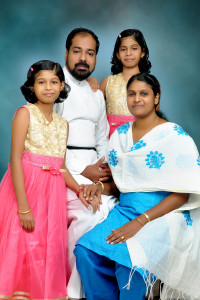 Rev. Stalin Thomas was born in , Kottarakkara, Kerala, India. His Mother Parish is Immanuel Marthoma church, Neelewsaram. He did his early education at the Govt.Boys High School,kottarakkara Kerala and St.Gregorious college, Kottarakkara before his Theological studies at the Mar Thoma Theological Seminary, Kottayam. He was ordained as a Priest of the Mar Thoma Church in July 2002. He started his ministry as student chaplain in Chennai followed by Kallar, Pullenchery, Bokaro, and Keezhvaipur
His Wife, Sony hails from Kundara, Kollam, Kerala. She did her graduate studies in Computer Science at Madurai Kamraj university and has a Master's Degrees in Electronics.
They are blessed with 2 daughters, elder daughter Emi S Rachel is in grade 8 in Anderson school and younger daughter Merlin S is in grade 6 in Goodman Chandler academy.



Vicars who have served our parish:





Rev. V. G. Varughese


 2013 - 2016


 Click for details




Rev. Dr. Philip Varghese


2012-2013


Click for details




Rev. Regi Zacharia


2009-2012


Click for details




Rev. James Thomas


2006-2009


Click for details




Rev. V. J. Mathew


2003-2006


Click for details




Rev. C. G. Thomas


2000-2003


Click for details




Rev. Kuruvilla Philip


1997-2000


Click for details